Products Catalog
Contact Us
Address:
NO.12,Business Outer Ring Road,Zhengdong New District,Zhengzhou, Henan,China
Tel/Fax:
+86-371-69191685
Phone/Whatsapp:
86-18638110225
E-mail:
sales@zz-modern.com
32 Seats Pirate Ship Ride - MPS32L01

Load: 32 riders
Power: 40kw
Swing angle ≤ ± 55 °
Equipment height:11m
Area: 14.8m × 8m
Spatial size:20m*8m
Scope of supply:Equipment subject, control system, operating room, platform, safety barrier, the ground above a complete set of equipment, installation debugging after test can have the conditions of use.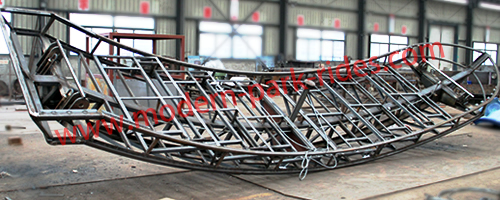 The viking ship ride gaming machine is large entertainment machinery; it utilizes the combined effect of the external force so that the hull reciprocating swing. Passengers come and go with viking ship ride, fighting in the stormy sea. The feeling of alternately weightlessness and overweight bring you thrilling, stimulating .At the same time, it also brings a relaxing feeling, memorable.

The entertainment machinery has a lot of characteristics, such as, safe, reliable, easy to operate, easy to install, with low noise, etc...
This equipment installation form is based on the basis of a fixed type. Equipment designs, manufacture, inspection, are all perform the following national standards:
1. GB8408-2008 "rides safety norms"
2. GB18164-2008 "Ferris wheel class amusement machines general technical conditions"
3. Device other countries, regulations and standards.