Products Catalog
Contact Us
Address:
NO.12,Business Outer Ring Road,Zhengdong New District,Zhengzhou, Henan,China
Tel/Fax:
+86-371-69191685
Phone/Whatsapp:
86-18638110225
E-mail:
sales@zz-modern.com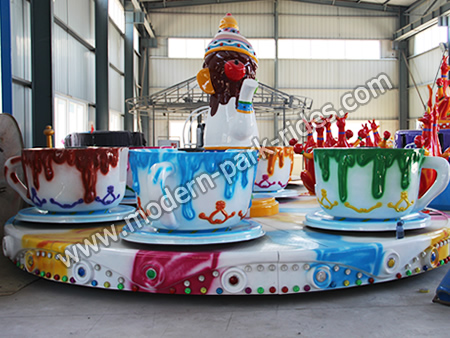 24 Seats Tea Cup Ride - MCC24L
Load:24riders
Power:3kw
Height:2.6m
Diameter:5.5m
Cup:diameter: 1.2m
Area:6.5m*6.5m
Color:can be made as your like
Tea cup ride, Also known as joy rotating coffee cup ,coffee cups around, is a new kind of childlike amusement park rides. Coffee cup sleek, middle realistic coffee pot, a different kind of color, so that people feel the mysterious southern style, ride rotating coffee cup in the revolution and rotation at the same time, visitors pleasure spontaneously.
‍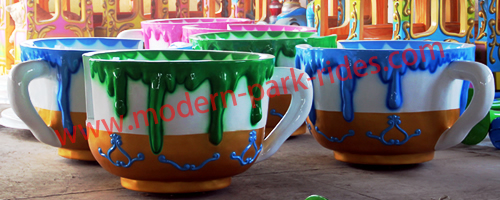 Tea cup ride operations guide:

1, In the operating process, a sudden power outage measures: in operation, a sudden power failure, the staff should promptly turn off the power switch, watching tourists dynamic, to appease tourists, let not panic until the device completely stopped, do a good job explaining to visitors work, and guide visitors to leave until the power is restored, re-test two times to determine the tea cup ride only after continued business.tea cup ride
2, In the operation of individual visitors feel unwell, panic measures: in the operation, individual visitors feel unwell, panic, the staff must promptly press the "stop" button, and comforted tourists stand completely stopped, the staff shall promptly unfasten their seat belts to help visitors leave the site and, if necessary, to send the infirmary, and check the other tourists, and if the tea cup everything is normal, in order to reboot.tea cup ride
3, In operation, visitors do not follow safety regulations appear behavior measures: in operation, there do not follow the safety provisions of the act, the staff should immediately persuade him to stop, if no effect immediately press the emergency stop, until the boat stopped after stabilization of the security breaches visitors politely, patient education, pointing out danger lies, let it participate again only after receiving pleasure.tea cup ride
4, In operation, the weather suddenly change measures: in operation, a sudden heavy rain, the staff prepared to explain to tourists, standby completely stopped, a safe place to guide visitors to the shelter until the weather improved, continue to operate.
5, Visitors do not meet the "Visitor Information" requirements and requirements of tourists take treatment measures: do not meet the "Visitor Information" provides visitors and staff should stand patiently explained the perspective of visitors, explain the reasons and that danger lies, If visitors insist to play, as the staff should adhere to principles, refused, and introduces visitors to the approp.