Products Catalog
Contact Us
Address:
NO.12,Business Outer Ring Road,Zhengdong New District,Zhengzhou, Henan,China
Tel/Fax:
+86-371-69191685
Phone/Whatsapp:
86-18638110225
E-mail:
sales@zz-modern.com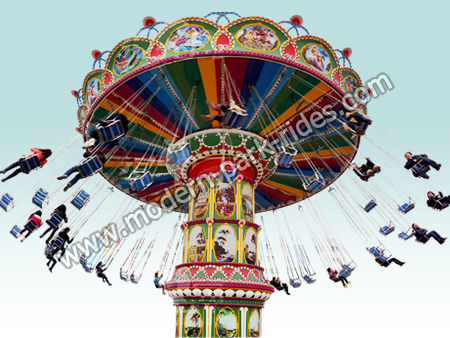 36 Seats Swing Flying Chair - MFC36GX
Static Diameter:9.23 m
Run Diameter:12 m
Static height:7.4 m
Run height:9.2 m
Rated load:36 riders
Power:18 kw
Voltage:380 v/50 hz
Speed:12 rpm
Area:diameter 15 m(with fence)

The amusement flying chair ride is a fairground ride that is a variation on the carousel in which the chairs are suspended on chains from the rotating top of the carousel. This type of swings ride was present at even the earliest amusement parks.

Luxury shook his head amusement flying chair like an umbrella shaking his head, hanging a lot of the beautiful, delicate, and the safety of lifts in the rotation of the umbrella, hanging chairs undulating in the air to rotate flying. The device rotates, take passengers hanging chair as if flying in the sky, experience the excitement of harvest and happiness.