Products Catalog
Contact Us
Address:
NO.12,Business Outer Ring Road,Zhengdong New District,Zhengzhou, Henan,China
Tel/Fax:
+86-371-69191685
Phone/Whatsapp:
86-18638110225
E-mail:
sales@zz-modern.com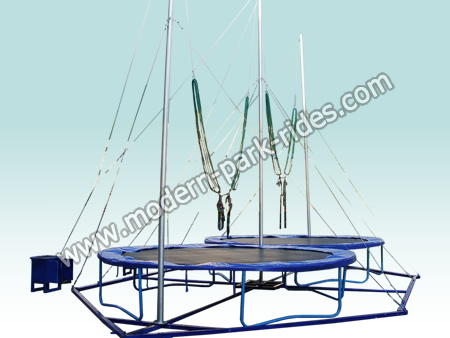 Double Bungee Rides TRB02W
1. Jumping mat: made in USA
2. Foam pad: EPE, closed-cell foam that will not absorb water, mildew or lose shape
3. Pad: PVC(500D, 500D) fabric
4. Tubes: galvanized inside and outside
5. Elastic rope: it is rubber inside and outside
6. Springs: super high-srength galvanized
7. CE approval
8. Size: 10x4x6m
Bungee Rides are kind of equipment on which you jump up and down as a sport. It consists of a large piece of strong cloth held by springs in a frame.It can let the player to increase coordination of its own in the air, let the joints and muscles are unique tension, bothfitness and have strong interest, regardless of people of all ages and both sexes, Everyone can bravely vacated a try.People will be deeply love the Bungee Rides.