Products Catalog
Contact Us
Address:
NO.12,Business Outer Ring Road,Zhengdong New District,Zhengzhou, Henan,China
Tel/Fax:
+86-371-69191685
Phone/Whatsapp:
86-18638110225
E-mail:
sales@zz-modern.com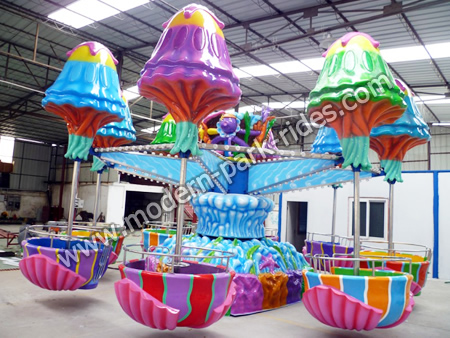 32 seats Theme Park Rides Jellyfish Rides - MFS32HX
Rated load:4riders*8cabins
Voltage:AC 380V/220V 50HZ
Power:8kw
Diameter:8m
Height:3.5m
Area:diameter 10m
Park Rides Jellyfish Rides is very similar to the form of samba balloon amusement, the appearance of a jellyfish shape, new, beautiful shape is very attractive. Happy the jellyfish middle of the shaft shape, such as Underwater World, eight jellyfish around the shaft to rotate up and down below the seat, the seat itself with the rotation. The machine is equipped with lights, night Colorful eye-catching.