Products Catalog
Contact Us
Address:
NO.12,Business Outer Ring Road,Zhengdong New District,Zhengzhou, Henan,China
Tel/Fax:
+86-371-69191685
Phone/Whatsapp:
86-18638110225
E-mail:
sales@zz-modern.com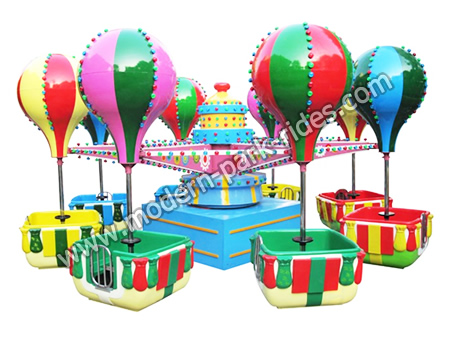 32 seats Samba Balloon - MSB32H
Rated load:32riders
Voltage:AC 380V/220V 50HZ
Power:8kw
Diameter:6m
Height:3.5m
Area:diameter 8m
Samba balloon race ride is a perfect family play equipment. Colorful hot-air balloon and a beautiful cabin together, movements, revolution, rotation, not only that, by the passenger cabin can control the rotation, with strong participation and fun.
Balloon rides is a perfect small amusement equipment, will the colorful balloons and beautiful cockpit together, in fact like a shook a smaller version of the her head swing chair ride and the space shuttle rides in the park, is a paradise compensation for children looked at swing chair. This product set movements, orbit, and rotation together, each cabin can take 4 people spin up and down, passengers can control their operations center; control the rotation of the cabins.