Products Catalog
Contact Us
Address:
NO.12,Business Outer Ring Road,Zhengdong New District,Zhengzhou, Henan,China
Tel/Fax:
+86-371-69191685
Phone/Whatsapp:
86-18638110225
E-mail:
sales@zz-modern.com
24 Seats UFO Rides - MFU24Z
Rated load:24riders(can be customized)
Wheel diameter:6.3m
Height:8m
Length:27m
Width:2m
Voltage:380v
Power:40kw
Track length:33m
Biggest angular:60°
Color:can be made as your like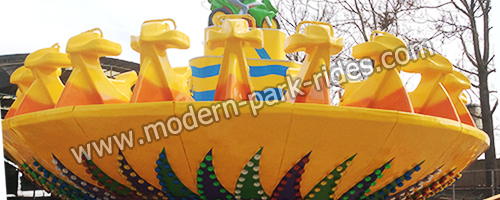 UFO rides, the device is characterized by its unique form and functioning way ahead of the ride. It completely changed the traditional way of amusement ride of back to back. Prominent feature of the device is look gorgeous, exotic gameplay, sound mighty. Can accommodate 20 people aboard the simulation UFO, located in the crescent shaped steel frame. Overall equipped with high brightness colored lights decoration. UFO rotates together with the lighting changes, is a UFO amusement park in a dazzling landscape. In the play equipment on the breakthrough of the traditional method of rigid single movement, UFO along the steel tracks, swipe up and down movements, while the rapid rotation itself, the passengers on the UFO rides whipped up and down, confused, very exciting.