Products Catalog
Contact Us
Address:
NO.12,Business Outer Ring Road,Zhengdong New District,Zhengzhou, Henan,China
Tel/Fax:
+86-371-69191685
Phone/Whatsapp:
86-18638110225
E-mail:
sales@zz-modern.com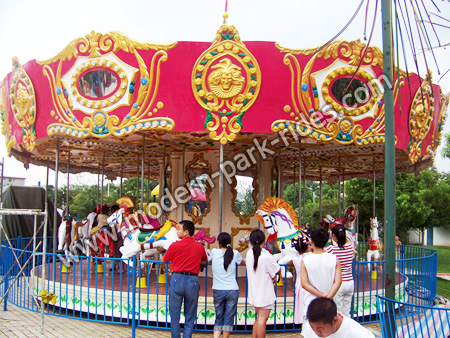 16 Seats Park Carousel - CS16Z06
Rated load:16riders
Diameter:6m
Height:6.8m
Speed of the plate:4.5rpm
Lift height:180~200mm
Lifting times of the horse: 5times
Voltage: 380V/220V
Power:3kw/2.2kw
Ceiling: high quality drum cloth (use life for 5 years)
The eaves: luxury glass fiber reinforced plastic great cornice (the eaves width of 80 cm)
The ceiling: luxurious color painting cloth
Screen: luxury glass fiber reinforced plastic + hd lens face plate
The Roman column: luxury Rome column (beautiful outlook, atmospheric)
Chassis: we use the bamboo veneer (bamboo veneer with moisture, shock, solid, durable etc)
Apron: we use the color painting cloth (spray patterns to customers free choice)
Park Carousel overall shape to safe, comfortable, nice-based. With music, lights. Night lights flashing, colorful. More people have a "full steam ahead" of feeling.
Park carousel particularly suitable for couples and families to play the game, it is a pleasure, parenting, communication in one of the rides. Make your business no age restrictions. This park carousel horse ride fully demonstrated the romantic temperament and warm atmosphere, and help you to attract business to make your business more competitive!