Products Catalog
Contact Us
Address:
NO.12,Business Outer Ring Road,Zhengdong New District,Zhengzhou, Henan,China
Tel/Fax:
+86-371-69191685
Phone/Whatsapp:
86-18638110225
E-mail:
sales@zz-modern.com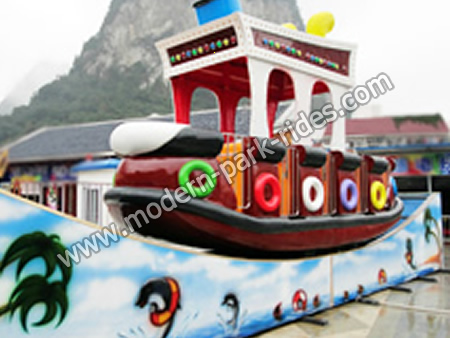 Modern Spin Pirate Ship - MPS16S
Load:16 riders
Motor weight:63kg(6 pole motor)
Voltage:380v
Power:3KW 50Hz
Rated current:7.4A
Motor speed:960rpm
Size:L15*D8.5*H5.8(m)
Exercise: half spin slide
Area:15m*8.5m
Control box:0.40*0.50*1.10m
Control box settings: integrated frequency inverter, adjustable speed, medium and slow three block times. Time can be adjusted (usually 5-10 minutes), voice input, satisfying piece or Mp3 input, 2GU disk can store more songs)
Spin Pirate Ship is a new kids park rides,it runs on top of a curved track, which is also in the process of running with its own rotation, people feel ride boats drifting on the sea, the feeling that spring breeze was blowing, suitable for children, youth, with children and other people who ride, facing widespread consumer groups.
Spin Pirate Ship is ne of the hotest and popular in the park.