Products Catalog
Contact Us
Address:
NO.12,Business Outer Ring Road,Zhengdong New District,Zhengzhou, Henan,China
Tel/Fax:
+86-371-69191685
Phone/Whatsapp:
86-18638110225
E-mail:
sales@zz-modern.com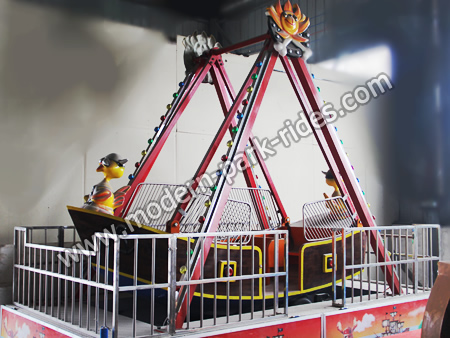 Modern Mini Pirate Ship - MPS10Z02
Load:10riders
Rate load weight:70kg/riders
Length:4.5m
Width:2m
Power:4kw
Height:3.3m
Weight:1 ton
Volume:15cbm
With movable base
Mini Pirate Ship playground equipment is a kind of swing back and forth around a horizontal axis of the rides.
All decorative parts of Modern pirate ships are made of fiberglass reinforced plastic(FRP),equipped with pretty LED
lights ,music,nonfading and durable painting and other advanced electrical accessories. Modern pirate ship swings from a slow start to the rapid swing, which makes passengers have feeling of travelling on sea.
Both decoration parts and seat(Seaters) of pirate ship ride is made of fiberglass reinforced plastics(FRP),which is Non-fading,environmental protection, safety, corrosion resistance, good stability durable painting.