Products Catalog
Contact Us
Address:
NO.12,Business Outer Ring Road,Zhengdong New District,Zhengzhou, Henan,China
Tel/Fax:
+86-371-69191685
Phone/Whatsapp:
86-18638110225
E-mail:
sales@zz-modern.com
Modern Flying Pirate Ship Ride MFHD01
Rated load: 8-16 riders
Power: 500w
Voltage: 380v
Height: 3.2m
Track length: 4.5m
Area: 6*7m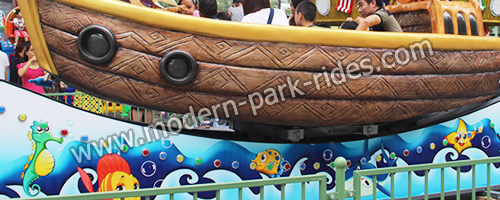 The pirate ship gaming machine is large entertainment machinery; it utilizes the combined effect of the external force so that the hull reciprocating swing. Passengers come and go with pirate ship ride, fighting in the stormy sea. The feeling of alternately weightlessness and overweight bring you thrilling, stimulating .At the same time, it also brings a relaxing feeling, memorable.
It is widely used in parks, amusement parks, kindergartens, community gardens, villas, shopping malls, supermarkets, Food City, Kids training institutions and other public places of entertainment.